Osmile ED1000 GPS Tracker Watch for Dementia & Alzheimer
Reg. $ 289 USD
Sale $ 239 USD

Osmile ED1000 - GPS Elderly Anti-lost Watch for Dementia & Alzheimer
4G Phone call, SOS emergency button, Precise GPS Positioning & Tracking

4G/5G Sim Card required (data plan required for GPS data transmittion for locating, Data usage is less than 200 MB per month)
~~Sim Card not included in Package~~
Support Most frequenct used Band of 4G&5G, Worldwide Applicable.
1. 4G Phone Call & Video Call
2. Precise GPS Positioning
3 .SOS Emergency Button
4. Electronic Fence (Notification, when dementia patient is out of set distance)
5. Remote camera (Assisting to take picture on environment & locate dementia patient)
6. Remote Microphone (Assisting to record environemnt sound & locate dementia patient)
7. Remote Heartrate & blood pressure monitor
8. Support multi-families caring elderly function up to 50 people can share care dementia patient.
9. GPS trace record and replay (every 10 minutes)
Please note the prefered strip color when purchase, thanks.
Worldwide Free Shipping, Arrival time 4~10 days.
Refund Policy:
Defected product on arrival: Full Refund, Osmile pay for the shipping for return. Full Refund after product examined in good condition or send new product for replacement.

If found returned product is not defected but returned reason is described as defected. Customer should cover the shipping fee for return. Thus, Osmile will reduce the amount for refund.

Before customer claim refund, customer should know every product function is fully examined before shipment.
If customer insisits to refund for not liking the product, refund should be claimed within three weeks from product purchased date.
Also Customer should affords the shipping fee to return.(Osmile will charge shipping fee over payal first, then provide
prepaid label to customer (Cheapest and fastest currier shipment to save your money). After check the returned product is in good
condition, we will arrange full refund product price over paypal ($239).
If the returned watch condition is not good and need refurbish, (Break, Scratched, artifical damgage, etc). We will decrease the refund amount for your reference.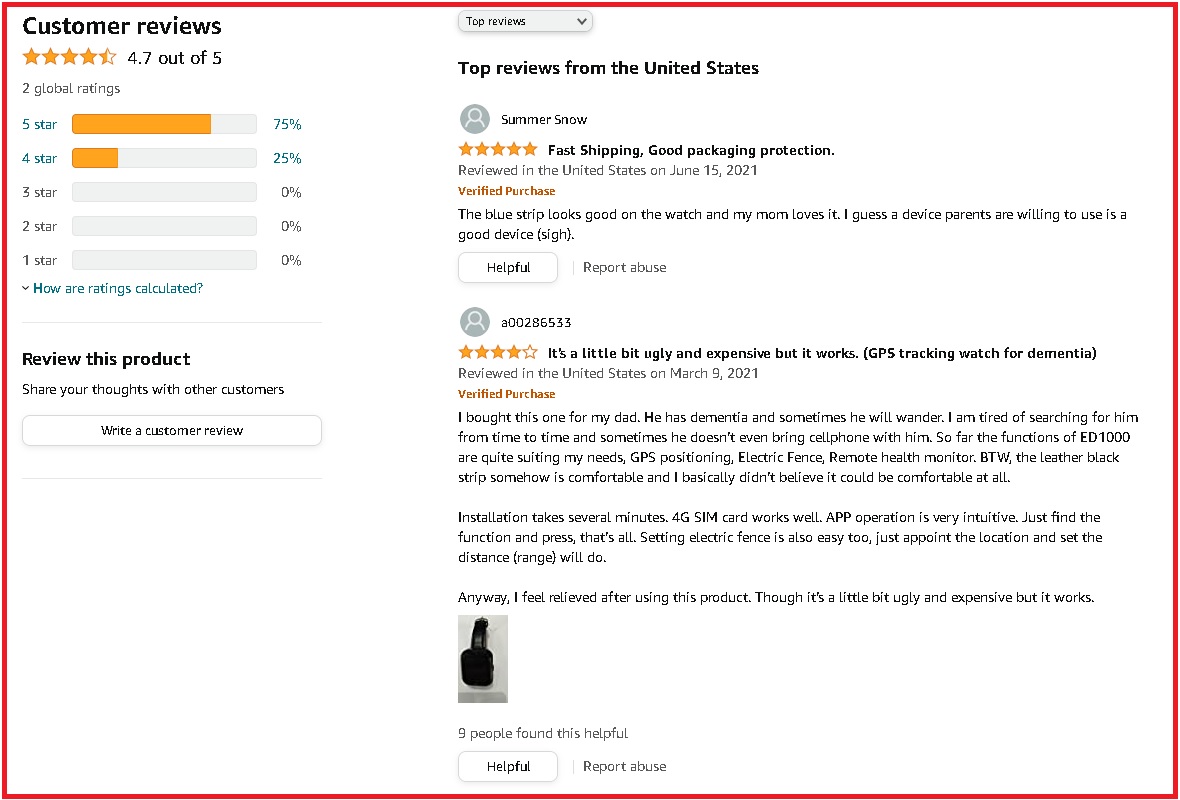 Screeshot from Amazon Dementia GPS Tracker customer review (Osmile ED1000 Dementia tracker)
ED1000 Dementia GPS Tracker Review from Rocmybrand
https://rocmybrand.com/2021/02/24/osmile-ed1000-dementia-tracker-review-unbox-anti-lost-gps-tracker-for-elderly-with-dementia/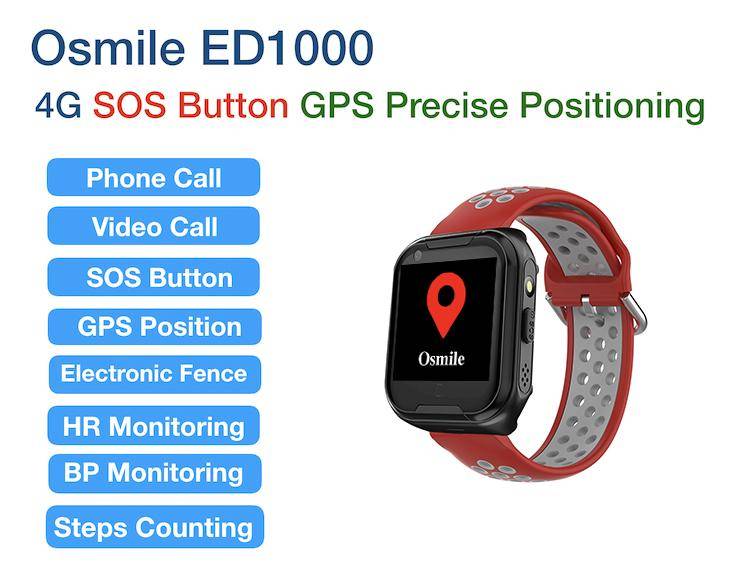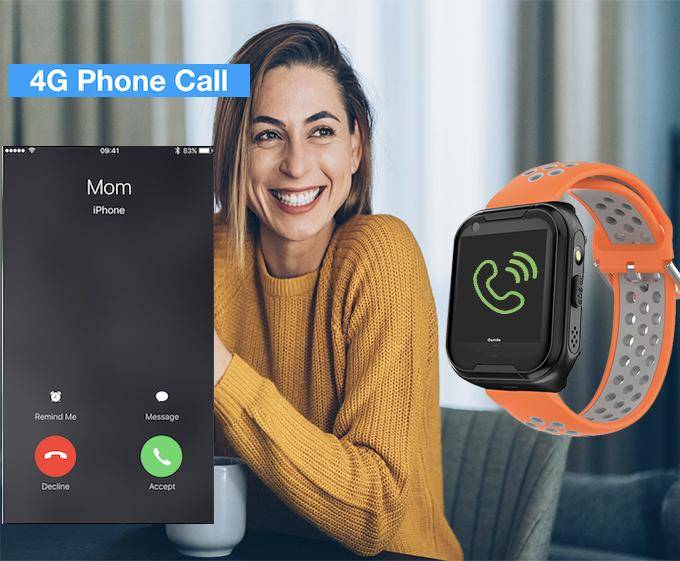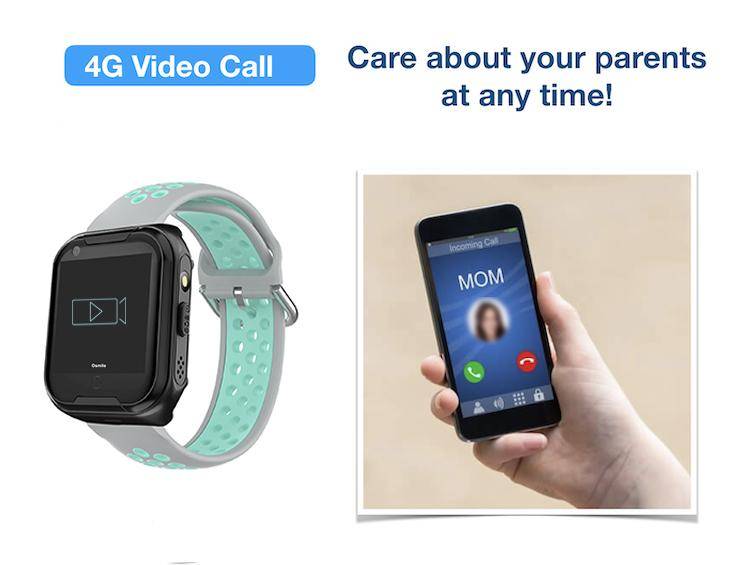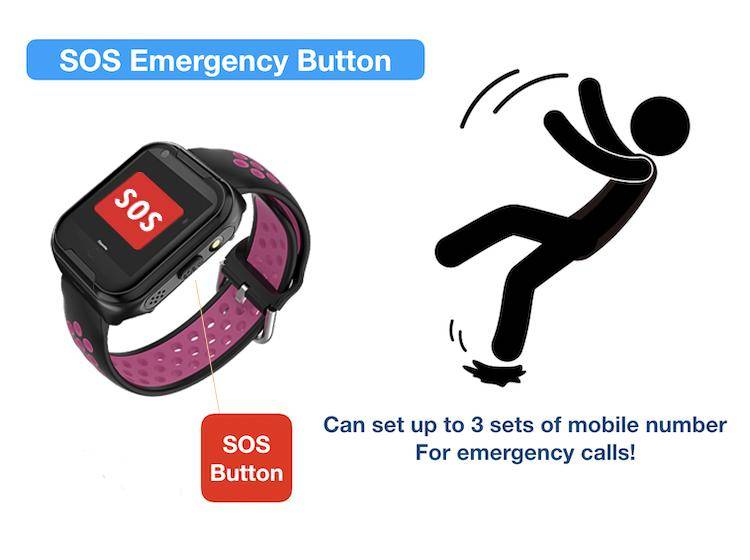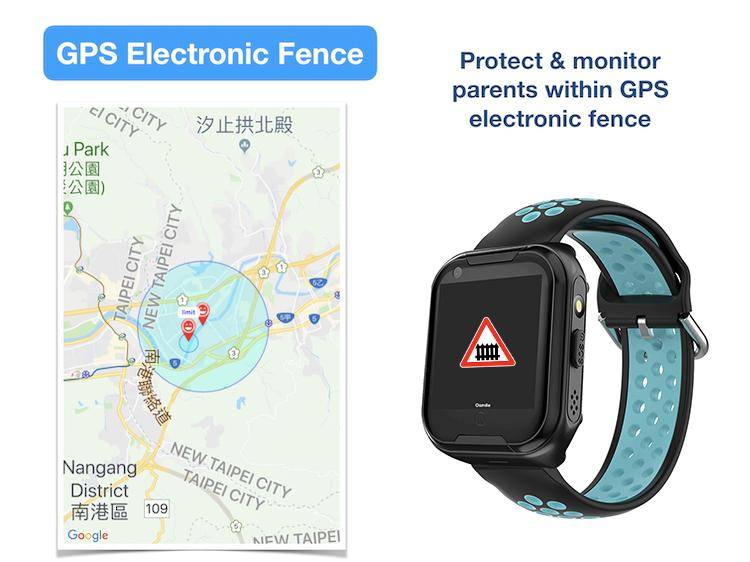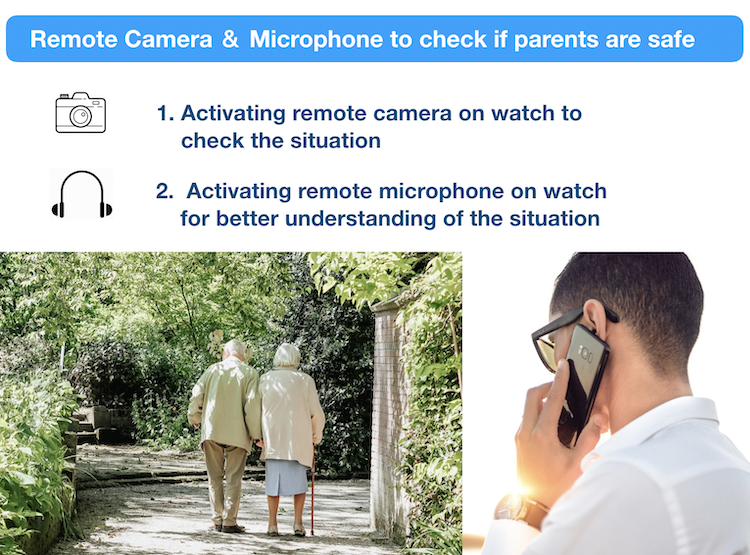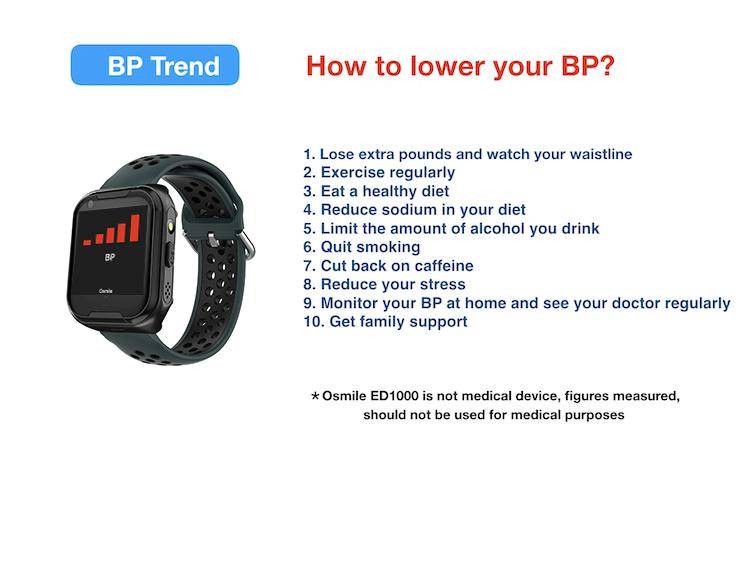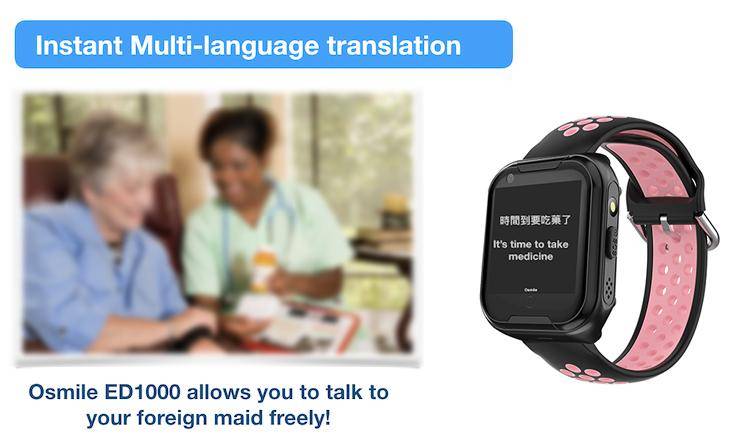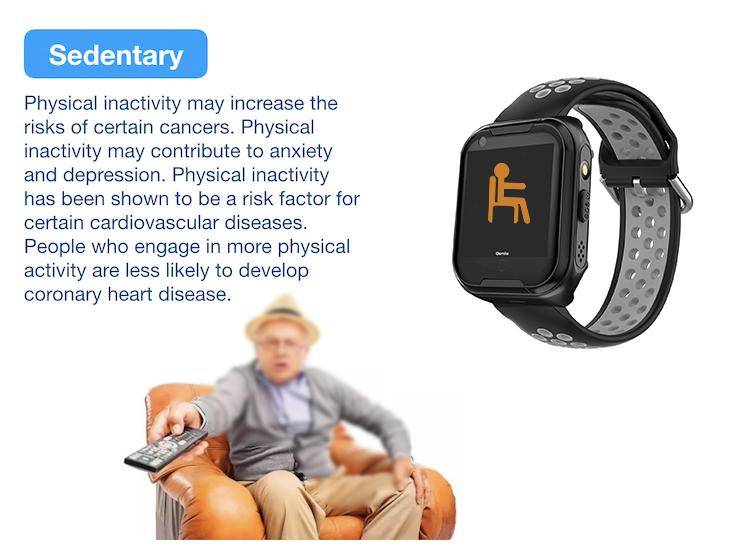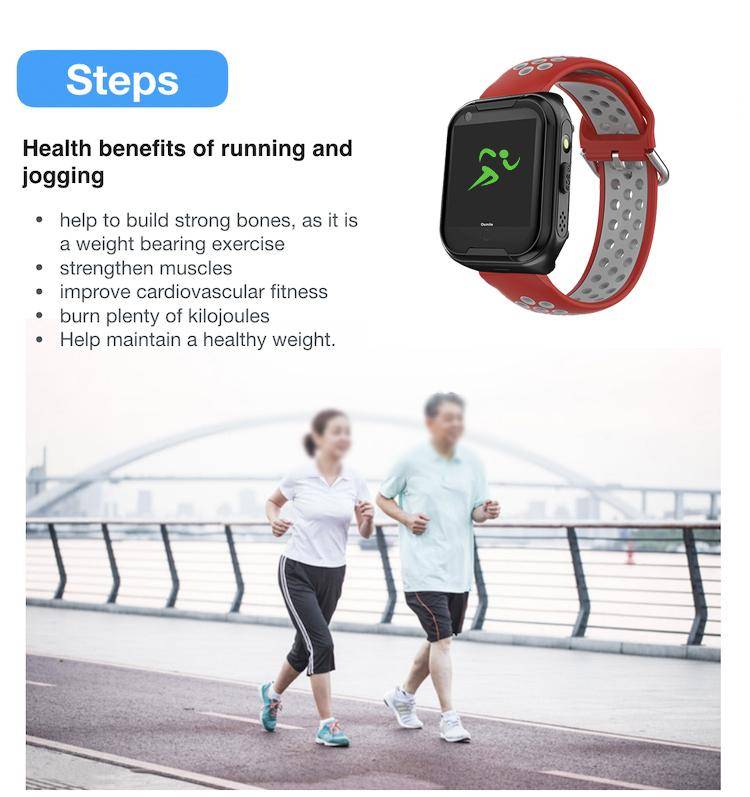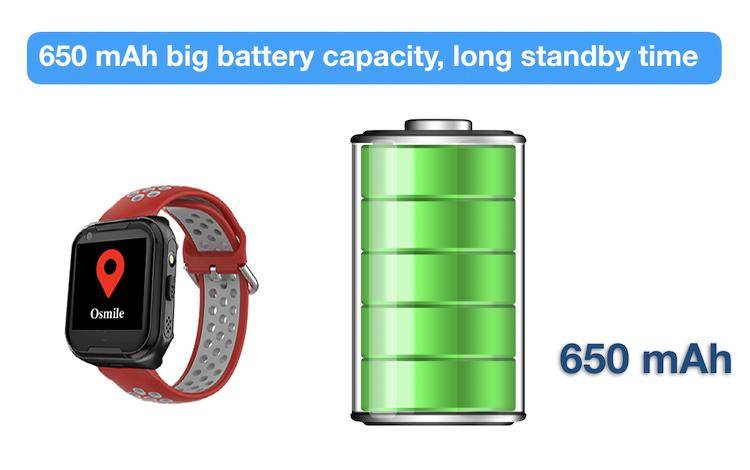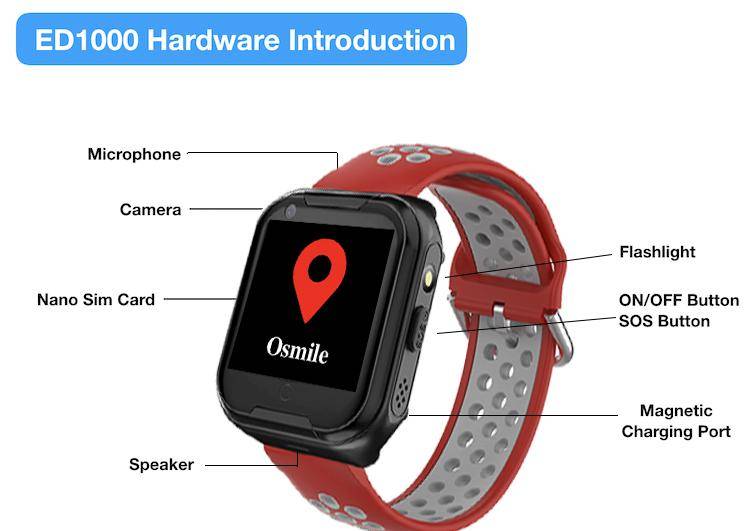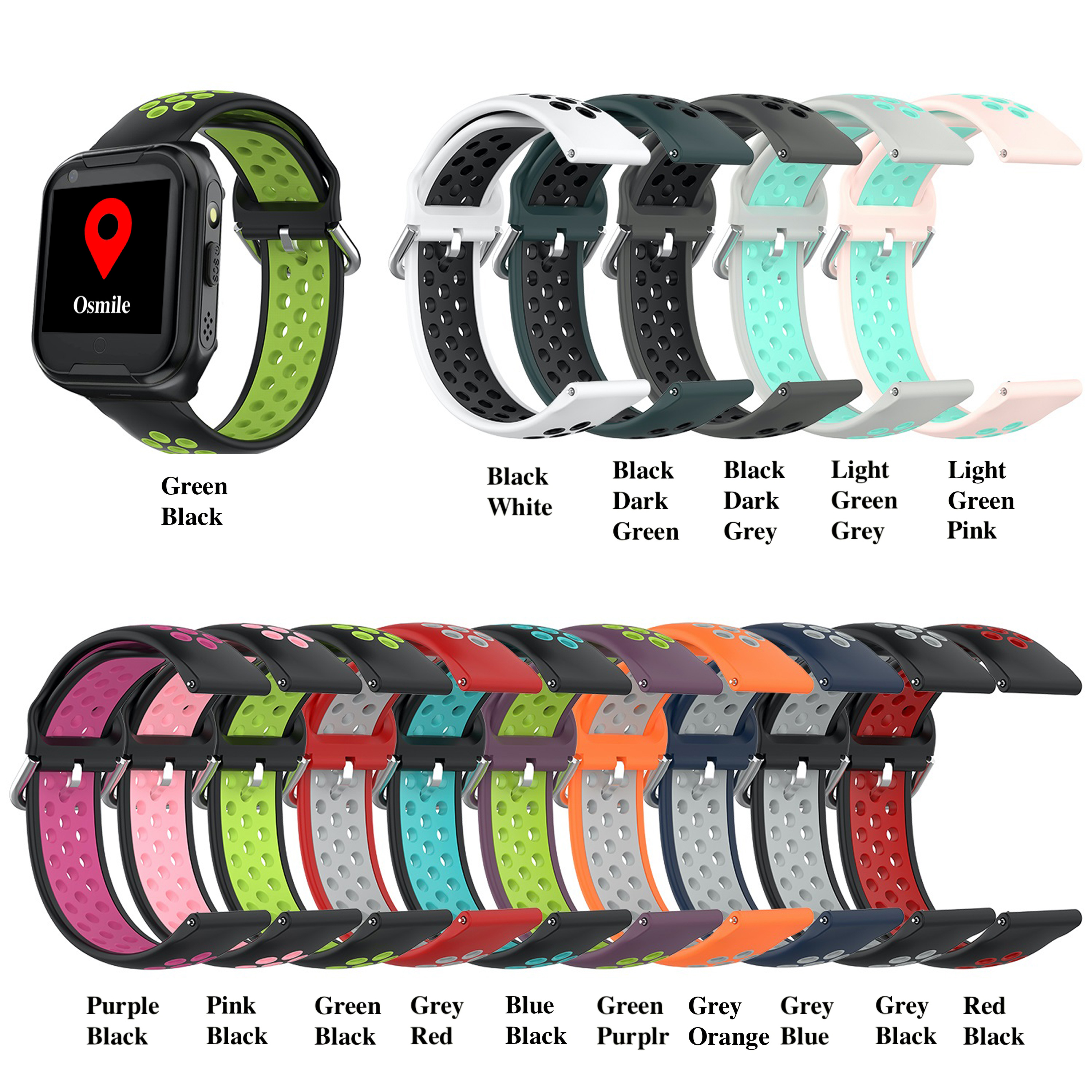 Osmile ED1000 - GPS dementia tracker (Elderly Anti-lost watch)
4G Phone call, SOS emergency button, Precise GPS Positioning
Osmile ED1000 Dementia Tracker Elderly Care Function:
1. 4G Phone Call
2. 4G Video Call
3. Precise GPS Positioning
4. GPS motion tracker
5. Remote camera (Assisting to locate alderly & dementia patients)
6. Remote Microphone (Assisting to locate dementia patient)
7. Electronic Fence (Notification, when elderly is out of set distance)
8. SOS Emergency Button
9. Multi-language translation
10. Watch Anti-lost function
11. Support multi-family caring elderly function
Osmile ED1000 Health Management Functions:
1. Heart rate monitoring
2. Medicine Reminder
3. BP monitoring
4. Sedentary
5. Sleep
6. Steps
Osmile ED1000 Dementia Tracker is not medical device, should not use for medical purposes. All data derived are only for reference.
Osmile ED1000 Other Functions:
1. Social Medical Communication: Line, WeChat etc
2. Find watch function
3. Alarm Clock
4. Phone Book
5. Multi-language support : Chinese/ Danish/ Dutch/ English/ French/
German/ Greek/ Hindi/ Hungarian/ Indonesian/ Italian/ Malay/ Pilipino/ Polish/ Portuguese/ Russian/ Spanish/ Swedish/ Thai/ Turkish/ Vietnamese
Osmile ED1000 Spec:
Model:Osmile ED1000
Wireless transmission:4G Nano Sim Card
System requirement:Android 4.4 and above ; IOS 9.0 and above
CPU : SP9820E
Screen Size : IPS 1.4'
Resolution:240 * 240 pixel
Touch:Capacitive touch
Screen : IPS touch screen
Camera:3.0 mp
GPS Sensitivity : - 159 dBm
Battery Capacity:650 mAh Lithium Battery
Voltage:5V
Charging method:Magnetic USB Charging
Charging time:2.5 hours
Operating time:Around 3 days
Watch material:ABS + PC
Strap Material:Leather - Black
Strap Material : Silicone Gel - Black; Grey; Purple; Red
Watch Size:25.7 * 4.1 * 1.5 cm
Watch weight:53g
Waterproof Level:IP67 (not support hot shower and swim)
Warranty:12 months (Support fast repair, but not artificial damage)
Customer service:Provide watch installation service
Remarks:
Osmile ED1000, needs to be charge once in 3 weeks, when it is not in use.
Osmile ED1000, not support hot shower, or swimming.
Osmile does not be resiponsible for leagl issue for SOS dialout function failure, Customer should be awared that SOS dialing out may not succed for factors like 4G signal is too week or no signal, human operation error, setting error etc.


Osmile Technology Co., Ltd
B2B professional cloud health analysis smart bracelet manufacturer
Customize: Hospital, Heath Centre, Care Home, Cloud Smart Bracelet
-----------------------------------------------------------------------------------------------------------------------------------------------
Fully quoted from https://www.alz.org/alzheimers-dementia/10_signs
Memory loss that disrupts daily life may be a symptom of Alzheimer's or other dementia. Alzheimer's is a brain disease that causes a slow decline in memory, thinking and reasoning skills. There are 10 warning signs and symptoms. If you notice any of them, don't ignore them. Schedule an appointment with your doctor.

Subscribe to our e-newsletter to learn how you can help those affected by Alzheimer's.
1. Memory loss that disrupts daily life
One of the most common signs of Alzheimer's disease, especially in the early stage, is forgetting recently learned information. Others include forgetting important dates or events, asking for the same questions over and over, and increasingly needing to rely on memory aids (e.g., reminder notes or electronic devices) or family members for things they used to handle on their own.
What's a typical age-related change?
Sometimes forgetting names or appointments, but remembering them later.
2. Challenges in planning or solving problems
Some people living with dementia may experience changes in their ability to develop and follow a plan or work with numbers. They may have trouble following a familiar recipe or keeping track of monthly bills. They may have difficulty concentrating and take much longer to do things than they did before.
What's a typical age-related change?
Making occasional errors when managing finances or household bills.
3. Difficulty completing familiar tasks
People with Alzheimer's often find it hard to complete daily tasks. Sometimes they may have trouble driving to a familiar location, organizing a grocery list or remembering the rules of a favorite game.
What's a typical age-related change?
Occasionally needing help to use microwave settings or to record a TV show.
Talk with a Dementia Expert Now
24/7 Helpline
800.272.3900
4. Confusion with time or place
People living with Alzheimer's can lose track of dates, seasons and the passage of time. They may have trouble understanding something if it is not happening immediately. Sometimes they may forget where they are or how they got there.
What's a typical age-related change?
Getting confused about the day of the week but figuring it out later.
5. Trouble understanding visual images and spatial relationships
For some people, having vision problems is a sign of Alzheimer's. This may lead to difficulty with balance or trouble reading. They may also have problems judging distance and determining color or contrast, causing issues with driving.
What's a typical age-related change?
Vision changes related to cataracts.
6. New problems with words in speaking or writing
People living with Alzheimer's may have trouble following or joining a conversation. They may stop in the middle of a conversation and have no idea how to continue or they may repeat themselves. They may struggle with vocabulary, have trouble naming a familiar object or use the wrong name (e.g., calling a "watch" a "hand-clock").
What's a typical age-related change?
Sometimes having trouble finding the right word.
7. Misplacing things and losing the ability to retrace steps
A person living with Alzheimer's disease may put things in unusual places. They may lose things and be unable to go back over their steps to find them again. He or she may accuse others of stealing, especially as the disease progresses.
What's a typical age-related change?
Misplacing things from time to time and retracing steps to find them.
8. Decreased or poor judgment
Individuals may experience changes in judgment or decision-making. For example, they may use poor judgment when dealing with money or pay less attention to grooming or keeping themselves clean.
What's a typical age-related change?
Making a bad decision or mistake once in a while, like neglecting to change the oil in the car.
9. Withdrawal from work or social activities
A person living with Alzheimer's disease may experience changes in the ability to hold or follow a conversation. As a result, he or she may withdraw from hobbies, social activities or other engagements. They may have trouble keeping up with a favorite team or activity.
What's a typical age-related change?
Sometimes feeling uninterested in family or social obligations.
10. Changes in mood and personality
Individuals living with Alzheimer's may experience mood and personality changes. They can become confused, suspicious, depressed, fearful or anxious. They may be easily upset at home, with friends or when out of their comfort zone.
What's a typical age-related change?
Developing very specific ways of doing things and becoming irritable when a routine is disrupted.